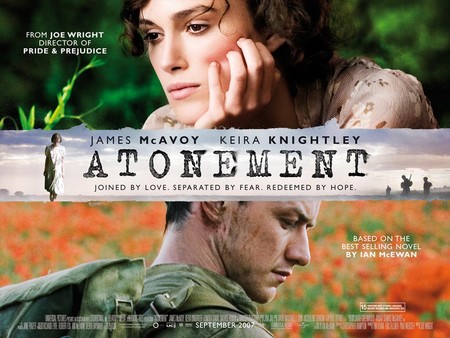 "Atonement" is a highly-acclaimed novel by British writer Ian McEwan, regarded as one of the most celebrated and honoured books of recent years. Its author has won numerous awards in Eurpoe and United States. "Atonement" contains several references to a number of other classical literary works, including Henry James' "The Golden Bowl", Jane Austen's "Northanger Abbey", and Shakespeare's "The Tempest" and "Twelfth Night".
A film adaptation, directed by Joe Wright ("Pride & Prejudice", 2005) from a screenplay by Christopher Hampton ("Dangerous Liaisons", 1988) is released by Working Title Films today in Belgium. The movie stars Keira Knightley ("Pirates of the Caribbean", "Pride & Prejudice", ...) and James McAvoy ("Becoming Jane", "The Last King of Scotland", ...). As the opening film of the 2007 Venice International Film Festival, "Atonement" made Joe Wright at the age of 35 the youngest director ever to open this prestigious festival.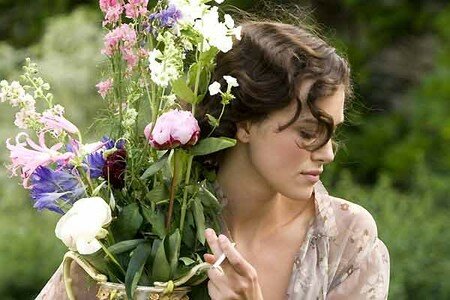 "Briony Tallis, 13 years old, an aspiring writer, and her adult sister Cecilia (Keira Knightley), are two of three children of an aristocratic English family. Robbie Turner (James McAvoy), about Cecilia's age, is a servant's son close to the family. Because of her vivid imagination, Briony misinterprets altercations and, later, embraces between her sister and Robbie as sexual agression. When a child of the Tallis family's friends is raped, Briony immediately accuses Robbie and the servant boy is arrested and jailed. During the Second World War, Robbie has to serve in the British Expeditionary Force. With only his mother and Cecilia protesting his innocence, Robbie is convicted and imprisoned, but granted parole on condition that he enlists. After the war, he is finally reunited with Cecilia, in London, where they renewed their love. Briony wishes to apologize to her sister and testifies about Robbie's innocence to the authorities." This is "Atonement", the latest successful novel written by Briony Tallis, this is her chance to give to Cecilia and Robbie the stolen hope and happiness that they deserved.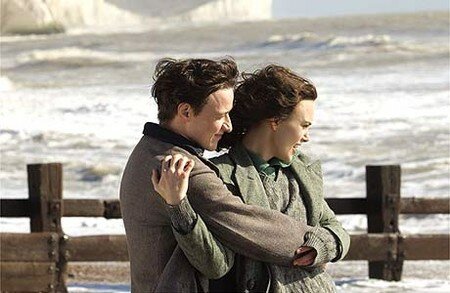 "Atonement" ("Reviens-moi", traduction française littérale : expiation) est un célèbre roman de l'écrivain britannique Ian McEwan, considéré comme l'un des livres les plus appréciés et récompensés de ces dernières années. Son auteur a remporté de nombreuses récompenses en Grande-Bretagne et aux Etats-Unis. "Atonement" contient diverses références à nombre d'oeuvres littéraires classiques dont "The Golden Bowl" d'Henry James, "Northanger Abbey" de Jane Austen, et "The Tempest" et "Twelfth Night" ("La Nuit des Rois") de Shakespeare.
Une adaptation cinématographique, réalisée par Joe Wright ("Orgueil & Préjugés", 2005) à partir d'un scénario de Christopher Hampton ("Les Liaisons Dangereuses", 1988) sort aujourd'hui en Belgique (produit par Working Title Films). A l'affiche, on retrouve Keira Knightley ("Pirates des Caraïbes", "Orgueil & Préjugés", ...) et James McAvoy ("Becoming Jane", "Le Dernier Roi d'Ecosse", ...). En tant que film d'ouverture du Festival International du Film de Venise, "Atonement" a fait de Joe Wright, âgé de 35 ans, le plus jeune réalisateur à avoir jamais ouvert ce prestigieux festival.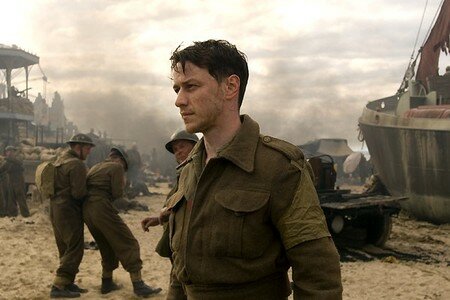 "Briony Tallis, 13 ans, une future romancière, et sa soeur Cécilia (Keira Knightley), sont les filles d'une famille aristocratique anglaise de trois enfants. Robbie Turner (James McAvoy), de l'âge de Cécilia, est le fils d'un domestique proche de la famille. A cause de sa vive imagination, Briony se méprend à propos d'une altercation et, par la suite, d'une étreinte entre sa soeur et Robbie, qu'elle interprète comme une agression sexuelle. Lorsque l'un des enfants des amis de la famille Tallis est enlevé, Briony accuse immédiatement Robbie et le jeune domestique est arrêté et emprisonné. Au cours de la Seconde Geurre Mondiale, Robbie doit servir au sein de la "British Expeditionary Force". Avec seules sa mère et Cécilia pour le défendre, Robbie est condamné et emprisonné, mais la liberté conditionnelle lui est accordée à condition qu'il s'enrôle. Après la guerre, Cécilia et lui son enfin réunis, à Londres, où ils laissent libre cours à leur amour. Briony souhaite présenter ses excuses à sa soeur et apporte son témoignage afin d'innocenter Robbie auprès des autorités." Voici "Atonement", le dernier roman à succès écrit par Briony Tallis, une ultime chance de donner à Cécilia et Robbie l'espoir et le bonheur volés qu'ils méritaient.
Pics : "Atonement", Working Title Films, 2007. No copyright infringement intended.