Chartwell, the family home of Sir Winston Churchill, is located near Westerham, in Kent. Churchill and his wife, Lady Clementine, bought the property in 1922 and the whole family lived there until 1965, except during the Second World War. The architect Philip Tilden was hired by Churchill between 1922 and 1924 to transform and modernize the house. The statesman had a painter's love of sunlight and wanted the windows throughout to be as large as possible in order to admire the beautiful panoramic view over the Weald of Kent at each time of the day.
Chartwell is currently under the administration of the National Trust and can be visited from March until November. The house remains much as it was when Churchill owned it and is decorated with pictures, books, maps and personal mementoes strongly evoking the career and wide-ranging interests of this great statesman. The original furniture, as well aspaintings, sculptures and ceramics can also be admired.
Behind the house, the garden is overflowed with herbaceous planting within a firm classicising architecture of stairs and balustraded terraces, in the "Lutyens-Jekyll" manner, and leads to the lakes that Churchill created. These areas, as well as Lady Clementine's Rose Garden and the Golden Rose Walk, provided inspiration for Sir Winston Churchill's paintings. His numerous artworks are on display in the house's garden studio.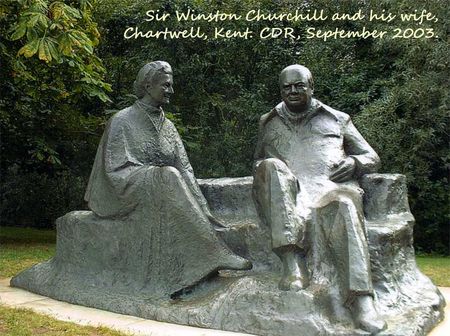 Chartwell, la maison familiale de Sir Winston Churchill, est située à proximité de Westerham, dans le Kent. Churchill et son épouse, Lady Clémentine, acquirent la propriété en 1922 et toute la famille y vécut jusqu'en 1965, excepté durant la Seconde Guerre Mondiale. L'architecte Philip Tilden fut engagé par Churchill entre 1922 et 1924 pour transformer et moderniser la maison. L'homme d'état possédait l'amour du peintre pour la lumière du jour et souhaitait que les fenêtres soient les plus larges possibles afin de pouvoir admirer, à chaque instant, le magnifique panorama sur le Weald of Kent qu'offrait sa demeure.
La porpriété de Chartwell est actuellement administrée par la National Trust et peut être visitée de mars à novembre. La maison est restée dans le même état que lorsque Churchill en était le propriétaire et est décorée de photos, livres, cartes et documents personnels qui évoquent la carrière et les multiples centres d'intérêt de ce grand homme d'état. Le mobilier original, différentes peintures, sculptures et céramiques peuvent aussi y être admirés.
Derrière la demeure, le jardin, fleuri de plantes herbacées qui envahissent une architecture d'escaliers des plus classiques et de terrasses pourvues de balustrades dans le style "Lutyens-Jekyll", mène aux lacs créés par Churchill. Ceux-ci, tout comme la Roseraie de Lady Clémentine et l'Allée de Roses Dorées, ont fortement inspiré les tableaux de Sir Winston Churchill. Ses nombreuses oeuvres sont exposées dans l'atelier qui se trouve au jardin, à proximité de la maison.