1. Introduction
L'association des techniques de l'aquarelle et du pastel sec produit des effets intéressants en termes de contraste, de profondeur, d'opposition transparence / opacité, de texture et de couleur. La plupart des artistes utilisent généralement le pastel par-dessus l'aquarelle pour venir à la rescousse d'oeuvres plus ou moins ratées ou travaillent seulement l'aquarelle en teinte de fond avant de peindre au pastel. Mais si vous appréciez l'innovation et les techniques expérimentales, le mélange des deux médiums peut susciter votre intérêt.
Au cours de cette démonstration, intitulée "Ile de Wight", je tâcherai de vous présenter les différentes manières d'associer les deux médiums : sec sur sec, sec sur humide, humide sur sec, humide sur humide, ... ainsi que la technique du "pastel aquarellé".
Etape 1 : Je choisis mon sujet. La texture des montagnes me semble intéressante à représenter, tout comme celle du flot des vagues. La composition est triangulaire, ce qui ajoute du dynamisme au tableau. Sans dessin préléminaire, je dépose les premiers lavis à l'aquarelle afin de placer les éléments de la scène. La nuance finale des montagnes variera autour de l'orange, je décide d'utiliser un fond complémentaire de nuance gris-bleu.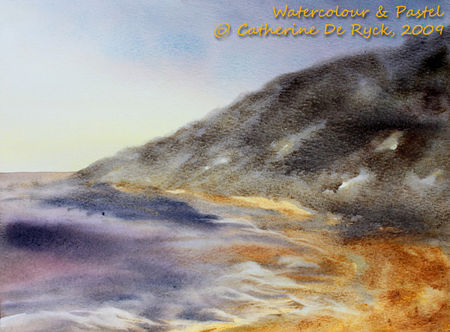 "Ile de Wight, Royaume-Uni". Travail en cours / Work in progress. 28 x 38 cm. 2009. Toute reproduction, totale ou partielle, est strictement interdite. Any (total or partial) reproduction of this picture is strictly forbidden.
The association of watercolour and soft pastel techniques produces interesting effets in terms of contrast, depth, opposition between transparency and opacity, texture and colour. Most of artists do usually use pastel over watercolour to rescue more or less failed paintings or only work with watercolour as an underpainting before painting with pastels. But if you like innovation and experimental techniques, then you could be interested in mixing both mediums.
During the course of this demonstration, "Isle of Wight", I will try to describe the different manners to associate both mediums : dry on dry, dry on wet, wet on dry, wet on wet, ... as well as the "watercoloured pastel" technique.
Step 1 : I choose my subject. The texture of the mountains seems to be interesting to depict, as well as the one of waves. The triangular composition adds dynamism to the painting. Without any preliminary drawing, I lay down the first watercolour washes to set the scene. The final hue of the mountains will vary around the orange, I decide to apply its complementary colour as underpainting : a blue-grey layer.
---
Lire la suite / Read the next step : Sec sur sec / Dry on dry