Notre session actuelle de cours est centrée sur l'aquarelle dite "humide sur humide". Le tableau présenté ci-dessous constitue un bel exemple de l'ensemble des effets qui peuvent être obtenus par le biais de cette technique. Ce procédé implique une bonne maîtrise des différents stades d'humidité du papier. Ceux-ci sont faciles à observer et identifier au regard et au toucher, de la surface imbibée d'eau jusqu'à ce qu'elle devienne totalement sèche.
Une fois cette théorie assimilée, le peintre peut expérimenter et créer des formes (comme les auréoles), lignes et effets d'aquarelle spécifiques. Pour cette cascade, des projections d'eau ont été ajoutées lorsque le papier était en surface semi-humide (satinée) pour créer des auréoles aux contours doux (1). Ensuite, le pinceau chargé d'eau pure et appliqué au stade semi-sec a laissé quelques marques visibles sur le travail préalablement exécuté (2). Un autre aspect intéressant est de comparer comment une forte charge de pigment se diffuse au cours de ces différents stades, comme par exemple lorsqu'elle est déposée à sec sur le papier ensuite imbibé d'eau (3) ou encore appliquée dans l'humide (4).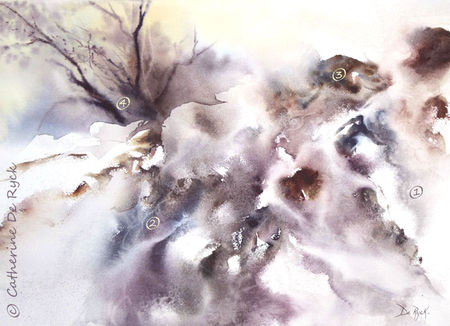 "Jeu d'Eau" / "Water Play". Aquarelle sur papier Arches grain fin. 36 x 46 cm. 2010. Toute reproduction, totale ou partielle, strictement interdite. Any (total or partial) reproduction of this picture is strictly forbidden.
Our current workshops are centered on wet-on-wet watercolour painting. The watercolour work presented above is a great example of all the effects that this technique has to offer. This way of working implies a good mastering of the different stages of paper wetness. These stages are easy to observe and identify by sight and touch, from the paper surface soaked with water until it becomes completely dry.
Once this theory acknowledged, the painter can experiment and create specific shapes (as f.g. backruns), lines and watercolour effects. For this waterfall, projections of water were added on the satined surface to create soft backruns (1). Then, the brush loaded with pure water and applied when the paper was still moist to leave moderated marks on the effects previously achieved (2). Another interesting aspect is to compare how tick paint diffuses when it is added during the several stages, as f.g. when applied on dry paper which will then be soaked with water (3) or when it is applied wet on wet (4).