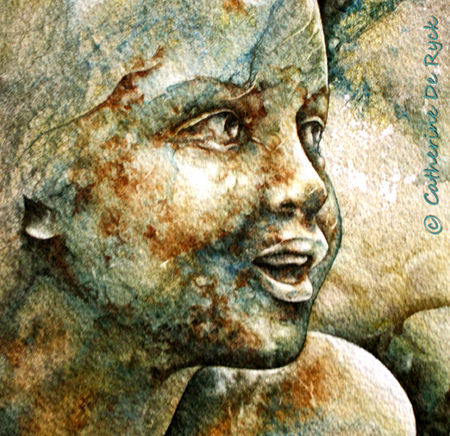 Trésor de Pierre / Stone's treasure (WIP). Aquarelle / Watercolour, Arches CP. 2010. Toute reproduction, totale ou partielle, est strictement interdite. Any (total or partial) reproduction of this picture is strictly forbidden.
Voici un aperçu détaillé de la seconde étape de mon travail. Le visage de la statue est à présent terminé. A partir des mêmes teintes, principalement des terres et bleus minéraux, je travaille la chevelure et ensuire l'arrière-plan. Je joue des premiers lavis et j'alterne les techniques du positif et du négatif. Ceci permet d'accentuer le côté réaliste du sujet tout en apportant davantage de poésie au tableau, comme vous pouvez le voir sur les quatre vignettes disposées ci-dessous.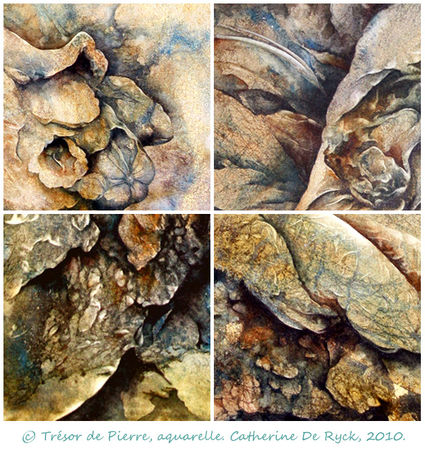 Here is a detailed overview of the second step of my work. The face of the statue is now completed. Using the same colours, mainly earth and mineral blue pigments, I paint the hair and, then, I begin to depict the background. I play with the first washes and alternate positive and negative painting techniques. This enhances the realistic look of the subject and brings more poetry to the painting, as you can see on the four close-ups dispalyed above.