A tous mes lecteurs et amis, je vous souhaite une heureuse et créative année 2012 ! Merci pour votre soutien, votre présence au cours des expositions, stages et autres événements. Merci de prendre le temps de commenter ce blog et me faire part de vos impressions sur mon travail.
Nous aurons de nombreuses occasions de nous rencontrer en 2012. Voici un aperçu de ce que l'année nouvelle nous réserve :
STAGE AQUARELLE EN NEGATIF

, 4-5 février. Banyuls-sur-Mer (FRA). Contact : Aquarelle en Côte Vermeille, Anne-Marie Péris

T. +33 468 88 55 96, +33 668 56 52 23

Salon International de l'Aquarelle de Banyuls-sur-Mer, invitée d'honneur. 4-26 février. Mairie de Banyuls, 66650 Banyuls-sur-Mer (FRA).

STAGE AQUARELLE EN NEGATIF, 7-8 février. Toulouse (FRA). Contact : stages@catherinederyck.be
Biennale Internationale d'Aquarelle de Toulouse, organisée par Aquarelle en Midi-Pyrénées. 4-24 février, Maison des Associations, 81 rue Saint Roch, 31400 Toulouse (FRA). Exposition ouverte du lundi au samedi, de 9 à 19 heures.
Exposition inaugurale : Prestige des Arts, artiste invitée. 1er-8 mai. Château de la Montmarie, 63880 Olliergues (Puy de Dôme, FRA).
33è Salon International Artistique de Haute-Loire, 10-26 août. Centre Pierre Cardinal, rue Jules Vallès 9, 43000 Le Puy-en-Velay (FRA).
Biennale Internationale d'Aquarelle - Belgique 2012, 11 août - 2 septembre. Château de Bourgogne, Place de Bourgogne 1, 7730 Estaimpuis (BEL). www.internationalwatercolourbiennial.com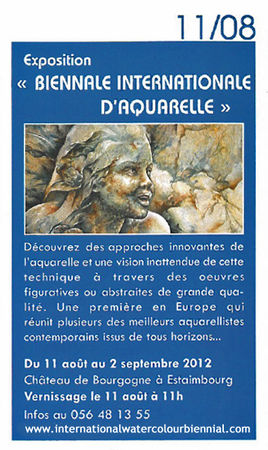 I wish a happy, healthy and creative New Year 2012 to all my readers and friends. Thank you for your support, your attendance during the exhibitions, workshops and other events. Thank you so much for taking the time to comment and give me your impressions about my work.
We will have many occasions to meet in 2012. Here's a sample of what this new year has in store :
WATERCOLOUR WORKSHOP : NEGATIVE PAINTING

, February 4-5. Banyuls-sur-Mer (FRA). Contact : Aquarelle en Côte Vermeille, Anne-Marie Péris

T. +33 468 88 55 96, +33 668 56 52 23

International Watercolour Exhibition in Banyuls-sur-Mer, invited artist. February 4-26. Mairie de Banyuls, 66650 Banyuls-sur-Mer (FRA).

WATERCOLOUR WORKSHOP : NEGATIVE PAINTING, February 7-8. Toulouse (FRA). Contact : stages@catherinederyck.be
International Watercolour Biennial in Toulouse, organized by Aquarelle en Midi-Pyrénées. February 4-24, Maison des Associations, 81 rue Saint Roch, 31400 Toulouse (FRA). Exhibition opens from Monday until Saturday, from 9 a.m. until 7 p.m.
First Exhibition : Prestige of Arts, invited artist. May 1-8. Castle of the Montmarie, 63880 Olliergues (Puy de Dôme, FRA).
33è Salon International Artistique de Haute-Loire, August 10-26. Centre Pierre Cardinal, rue Jules Vallès 9, 43000 Le Puy-en-Velay (FRA).
International Watercolour Biennial - Belgium 2012, August 11 - September 2. Château de Bourgogne, Place de Bourgogne 1, 7730 Estaimpuis (BEL). www.internationalwatercolourbiennial.com