Voici un second aperçu de ma série consacrée aux Lions. Celui-ci vient compléter une aquarelle précédente intitulée "Le Sommeil du Gardien", que vous avez découverte il y a quelques mois sur ce blog.
J'ai utilisé les propriétés des différents pigments (transparence - opacité - granulation - sédimentation - transformation ...) pour suggérer la matière, la pierre. Une palette de couleurs réduite m'a permis d'obtenir, par mélanges, une variété de gris colorés aux nuances subtiles.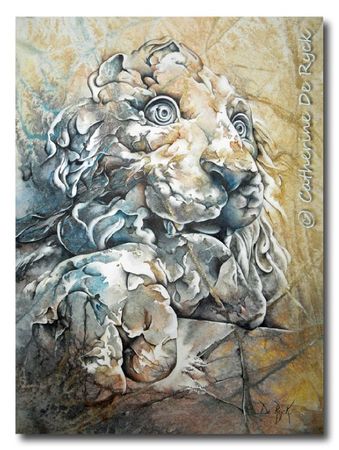 Les Yeux Grand Ouverts / Wide Awake. Aquarelle / Watercolour, Arches CP, 640 g/m2. 38 x 28 cm. 2012.
Here is a second work from the Lions Watercolour Series. It completes a previous painting, "Sleeping Guardian", that I published a few months ago on this blog.
I used the pigment's properties (transparency - opacity - granulation - sedimentation - transformation ...) to suggest the materiality of the stone. A limited palette helped me to create, by mixing colours together, a wide range of coloured greys with subtle shades.