Los Angeles accueillera prochainement la troisième édition de Twitter Art Exhibit, une exposition internationale d'oeuvres au format carte postale réalisées par des centaines d'artistes venus du monde entier. En 2013, les bénéfices seront reversés à Los Angeles Art Division, un programme d'enseignement professionnel pour les jeunes défavorisés (âgés de 18 à 25 ans) qui montrent un intérêt et une prédisposition pour les arts visuels.
L'ensemble des oeuvres seront exposées et mises en vente du 12 janvier au 10 février 2013, au prix de 35 USD/pièce. Twitter Art Exhibit 2013 ouvrira ses portes à la Galerie Exhale Unlimited, 953 Chung King Road à Los Angeles, CA 90012 (USA).
Je suis heureuse de faire partie des artistes internationaux qui soutiennent et participent à cet événement. L'idée est simple : les artistes sont contactés via le réseau social Twitter en vue de créer une oeuvre au format carte postale qu'ils envoient ensuite au curateur de l'exposition. Ce dernier se charge alors d'exposer et de vendre l'oeuvre au profit d'une organisation caritative.
L'appel à candidatures est donc lancé à tout artiste qui souhaite soutenir ce projet. Date limite d'envoi des oeuvres : 4 janvier 2013.
Pour en savoir plus : www.twitterartexhibit.org, www.artdivision.org, www.exhaleunlimited.com.
Artistes : rejoignez Twitter Art Exhibit 2013. Amateurs d'art et collectionneurs : de nombreuses oeuvres sont mises en vente à prix abordables, faites-vous plaisir !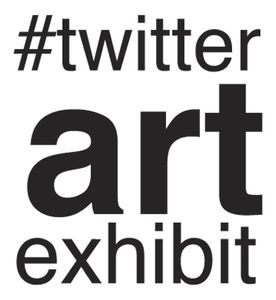 Los Angeles is the third installment of Twitter Art Exhibit, an open international exhibition of handmade postcard art donated by hundreds of artists from around the globe. In 2013, all proceeds will benefit to Los Angeles Art Division, a professional training program for underserved young adults (aged 18 - 25) who show genuine commitment and passion for the visual arts.
All works will be displayed and sold from January 12th until February 10th, 2013, at 35 USD/piece. Twitter Art Exhibit 2013 will be open at Exhale Unlimited (E.U.) Gallery, 953 Chung King Road in Los Angeles, CA 90012 (USA).
I am pleased to be part of the international artists who are supporting and participating in this event. The idea is simple: artists receive a call through Twitter social media to create a postcard-sized art, which they mail to a local curator. Then, the curator exhibits and sells the art to benefit a chosen charity.
The call for entries is open to artists from around the world interested in helping raise money for charitable causes. Deadline : January 4th, 2013.
Learn more at : www.twitterartexhibit.org, www.artdivision.org, www.exhaleunlimited.com.
Artists: please help and take part in Twitter Art Exhibit 2013. Art lovers and collectors: many paintings are for sale at affordable prices, please donate!