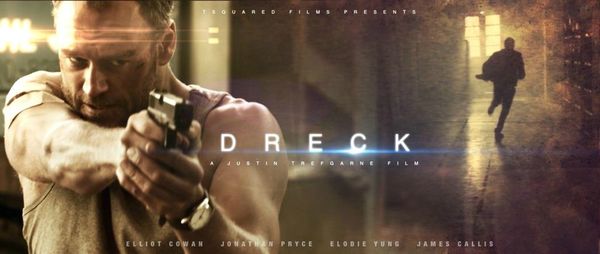 Une fois n'est pas coutume, nous allons évoquer le Septième Art ! Certains d'entre vous savent que la mise en oeuvre cinématographique m'intéresse énormément, de la première ébauche au produit fini, et plus particulièrement lorsqu'une utilisation spécifique du dessin, de la lumière, du design et/ou de la photographie y est associée.
J'ai découvert DRECK, film indépendant écrit et réalisé par Justin Trefgarne et produit par Eldar Tuvey et l'acteur Elliot Cowan, tous trois membres de T Squared Film, par l'intermédiaire des réseaux sociaux. Voici quelques-uns des éléments qui ont retenu mon attention :
le film a été tourné entièrement à Londres et au Pays de Galles (alors que bien d'autres sont réalisés presqu'entièrement en studio avec, parfois, un manque flagrant d'authenticité) ;

en référence au synopsis, ce film nous propose un scénario intelligent, non-conventionnel et original ;

les membres de T Squared Films ont réuni 100% de leur financement de manière indépendante, ce qui leur a permis de travailler avec une équipe de professionnels au talent émergent ou confirmé, présents devant et/ou derrière la caméra ;

durant 18 mois, Justin, Eldar et Elliot ont conjugué leurs efforts afin de privilégier la qualité sur la vitesse et de donner naissance à un film commercialement viable, inventif, indépendant et ambitieux dans l'univers cinématographique britannique.
Comme vous le savez, le cinéma indépendant se développe à l'écart d'Hollywood ou d'autres studios cinématographiques majeurs. Cela signifie qu'un film indépendant (ou d'auteur) est une oeuvre initialement produite sans financement ou canaux de distribution extérieurs émanant des grands studios. Tourner et réaliser un film, revoir la bande sonore, concevoir la bande-originale,... nécéssite un travail colossal et investi de la part de de chaque intervenant : acteurs, équipe de tournage, équipe de production. Bien que, de nos jours, les moyens de production peuvent être davantage démocratisés, le financement, la distribution et le marketing restent difficiles d'accès en dehors du système traditionnel.
Voilà pourquoi DRECK a besoin de votre aide afin de se démarquer et d'être distribué dans les salles. Voici comment soutenir ce film indépendant : rendez-vous sur la page dédiée à DRECK sur kickstarter et, si le projet vous séduit, alors il ne vous reste plus qu'à introduire une promesse de don avant le 22 mai. Chaque Livre Sterling compte !
L'HISTOIRE : En 2022, toutes les drogues ont été légalisées. Les Drecks forment une unité d'élite créée par des forces de police débordées, afin de tenir les dealers du marché noir à l'écart des rues et permettre aux compagnies de drogues dites "légales" de continuer à s'enrichir. Lorsque Frank Grieves, ancien dépendant devenu Dreck, se voit confier une enquête d'homicide sur un corps non identifié, il établit un lien avec la plus importante et puissante compagnie parmi toutes : Ambro. Celle-ci possède de nombreux amis haut placés et, alors que ses supérieurs corrompus se jouent de lui, Grieves est déclaré hors-la-loi et séparé de ceux qu'il aime. L'unique manière de blanchir son nom est d'identifier ce corps et d'établir fermement le lien qui le relie à Ambro. Mais même Grieves ne peut prédire ce que le futur lui réserve...
Pour plus d'informations au sujet de DRECK, reportez-vous au site Internet ou à la page Facebook.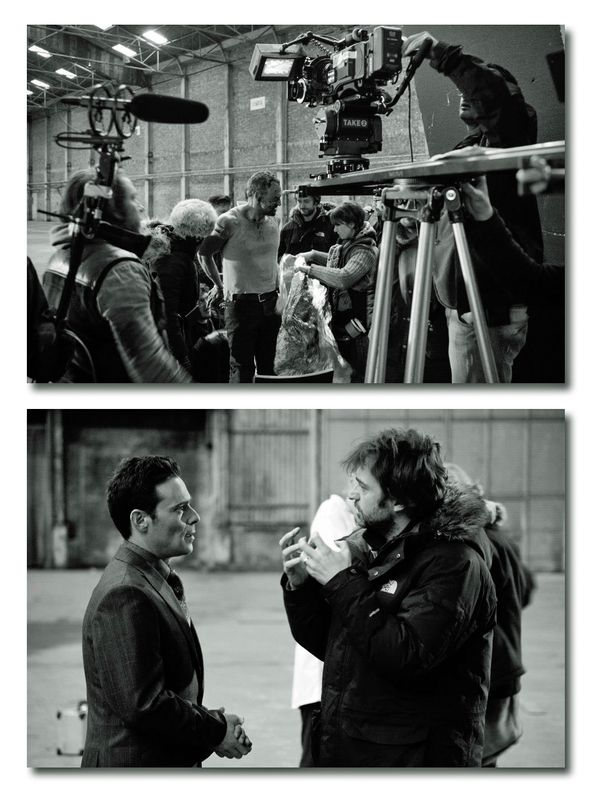 For once, I'll write about The Seventh Art (aka cinema, the Italian film theoretician Ricciotto Canudo gave cinema the label The Seventh Art in the 1920's, which is still current in French). Some know that I've always been interested in movie making, from the early steps to the final product, especially when a specific use of drawing, light, design and/or photography is part of it.
I've first heard about DRECK, an independent movie written and directed by Justin Trefgarne, produced by Eldar Tuvey and actor-producer Elliot Cowan, all members of T Squared Film, through social media. This is what interests me in DRECK:
the film was shot entirely on location in London and Wales (while many others are made in studios with, sometimes, a lack of authenticity);

according to the synopsis, this movie proposes an intelligent, unconventional and original script;

the members of T Squared Films raised their finance 100% independently, which freed them up to work with up and coming talent alongside established names both behind and in front of the camera;

during 18 months, Justin, Eldar and Elliot worked very hard to priviledge quality over speed and to make a commercially viable, inventive, independent and above all ambitious British feature film.
As you may know, independent filmmaking often takes place outside of Hollywood, or other major studio systems. This means that an independent film (or indie film) is a film initially produced without financing or distribution from a major movie studio. Shooting and editing a movie, creating and editing the sound and music... ask lots of efforts from the cast, crew and staff. However, while the means of production may be democratized, financing, distribution and marketing remain difficult to accomplish outside the traditional system.
This is why DRECK needs your help to get noticed and sold for distribution. This is how you can join and support this indie film : please visit DRECK's page on kickstarter and, if you are seduced by the project, then make a pledge before 22 May. Each £1 counts!
THE STORY : In 2022, all classes of drugs have been legalised. Drecks are an elite unit created by an over-stretched police force to keep the black market dealers off the streets and the licensed drug companies rich.When Dreck and former addict Frank Grieves is called to investigate an unidentifiable corpse, he makes a connection to the biggest and most powerful drug company of them all: Ambro. But Ambro have friends in high places and as his corrupt superiors turn on him, Grieves finds himself cut loose by the law and separated from the people he loves. The only way to clear his name is to find the identity of the dead body and its connection to Ambro. But not even Grieves can predict what the future has in store...
To learn more about this movie, please visit DRECK's website and Facebook Page.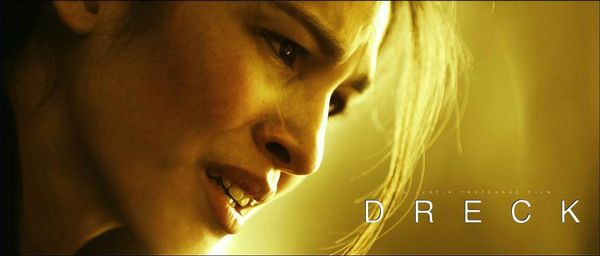 All pictures are the property of T Squared Films, with credits to Chris Moon for the banners.