J'ai récemment découvert et testé de nouvelles couleurs extra-fines de la marque Daniel Smith. Les Aquarelles Extra-Fines Daniel Smith sont fabriquées à Seattle, Etats-Unis. Cette gamme constituée de plus de 235 colours propose des nuances synthétiques de pigments minéraux dont la production a aujourd'hui été stoppée (comme le bleu de manganèse), de très belles terres naturelles et quelques-uns des plus vibrants quinacridones disponibles sur le marché. J'ai d'ailleurs découvert la marque il y a quelques années grâce à ces quinacridones qui mêlent transparence et intensité. Leur pigmentation est parfaite pour ajouter la touche de couleur pure nécessaire à ma peinture, ils conviennent également très bien aux mélanges et à l'application de lavis superposés.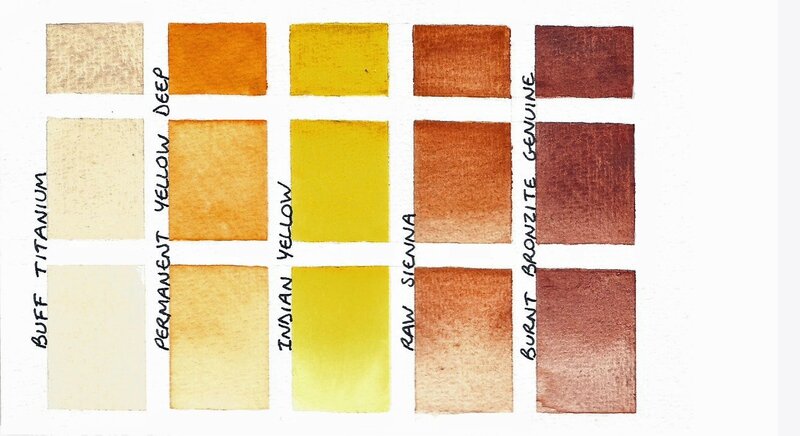 En 2014, Daniel Smith élargi sa gamme d'aquarelles en y ajoutant les Nature's best PrimaTek® watercolours. Ces 9 couleurs sont créées à partir de pigments directement issus de la terre : Mummy Bauxite, Red Fuchsite, Green Apatite Genuine, Blue Apatite Genuine, Serpentine, Bloodstone Genuine, Jadeite Genuine, Bronzite Genuine, Sigilite Genuine. Malheureusement, les produits de la marque ne se trouvent pas facilement en Belgique, c'est donc au cours d'un récent voyage que j'ai eu la possibilité de les tester. Voici quelques-uns des nuanciers que j'ai réalisés et sur lesquels le pouvoir, la saturation et les valeurs propres à chaque couleur ont été testés. (Papier : Fabriano Artistico, 300g/m2.)
Daniel Smith a fondé son entreprise en 1976, sa volonté était alors d'offrir la meilleure qualité d'encre possible aux artistes imprimeurs. En 1993, Daniel lance une gamme de couleurs aquarelles avec une seule idée en tête : permettre à l'aquarelliste de travailler avec les meilleurs couleurs. Son rêve est devenu réalité avec l'introduction sur le marché d'une première collection de 27 couleurs qui s'agrandit d'année en année.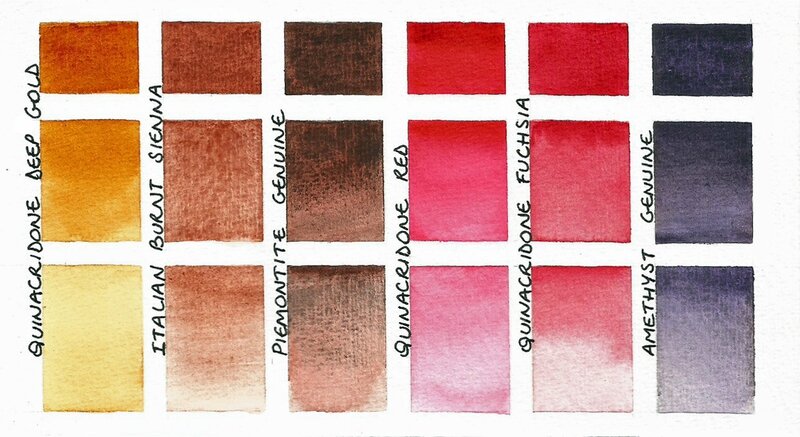 I just tried some new shades from the Daniel Smith's range. Daniel Smith Extra Fine Watercolours are made by hand in Seattle, USA. This watercolour range of more than 235 colours includes historical hues (such as maganese blue), beautiful earth colours and some of the brightest quinacridones ever formulated. I discovered the brand with these amazing quinacridones which are vibrant, transparent and very intense. To me, their pigmentation is perfect to add the pop of pure colour that I need in my paintings, they are also very useful for mixing and layering colours.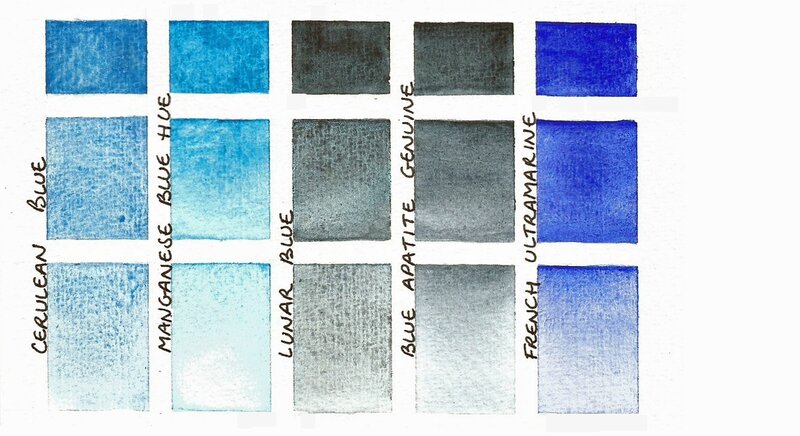 In 2014, Daniel Smith launched a new addition to its range: the Nature's best PrimaTek® watercolours. These 9 colours are made with pigments mined directly from the earth: Mummy Bauxite, Red Fuchsite, Green Apatite Genuine, Blue Apatite Genuine, Serpentine, Bloodstone Genuine, Jadeite Genuine, Bronzite Genuine, Sigilite Genuine. The products of the brand are not easy to find, especially in Belgium, but I was recently able to test some of them. Here are some colour charts that I made, where the power, saturation, values of each colour were tested. (Paper : Fabriano Artistico, 140 Lb.)
Daniel Smith started his business in 1976, dedicated to bringing the highest quality inks to the print-artist community. In 1993, Daniel set out to create a line of watercolours with one goal in mind: to bring the watercolour artist the very best product available. His dream came to fruition with the introduction of a first collection of 27 colours, that still grows every year.