Demain, Fred et moi (ainsi que mes nombreux carnets de croquis) partirons pour l'Irlande. Nous atterrirons à Dublin où nous séjournerons durant quelques temps. Ensuite, nous visiterons Galway et la région du Connemara. Nous suivrons la côte ouest en direction du sud du pays, en passant par le Kerry, Killarney et Cork. Enfin, nous rejoindrons Dublin en traversant les parcs naturels et le Comté de Wicklow. Pendant quelques semaines, je partagerai avec vous quelques-uns des plus beaux paysages que nous découvrirons, de nouvelles sources d'inspiration... Mais pour l'instant, voici un bref aperçu de ce qui nous attend...
L'Irlande (ou République d'Irlande) est située sur l'île homonyme située au nord-ouest du continent européen dans l'Atlantique Nord. Elle s'étend sur plus de 85% de la superficie de cette dernière, soit 70 273 km2 (seul le nord-est, baptisé Irlande du Nord est resté sous souveraineté britannique). Le pays comprend vingt-six comtés depuis la partition du pays en 1921.
La morphologie de l'île comprend une plaine centrale entourée de montagnes et de collines, particulièrement remarquables dans le Donegal et le Wicklow. Les sommets les plus hauts se trouvent au sud-ouest avec les Macgillycuddy's Reeks qui comprennent le point culminant du pays, le Carrauntuohill avec ses 1 038 mètres.
Les paysages sont faits de tourbières, de lacs et de rivières. L'Irlande possède d'ailleurs dans la totalité de son cours, le plus long fleuve des Îles Britanniques : le Shannon, qui parcourt 386 km du nord au sud-ouest avant de se jeter dans l'océan Atlantique. Au sud-ouest, les falaises de Moher surplombent l'océan Atlantique. Non loin de là, les îles d'Aran font face à la baie de Galway. À l'est du pays, au nord de Dublin, le rivage est assez plat mais tout autour de l'île s'étendent de nombreuses plages de sable fin. (Source : Wikipédia)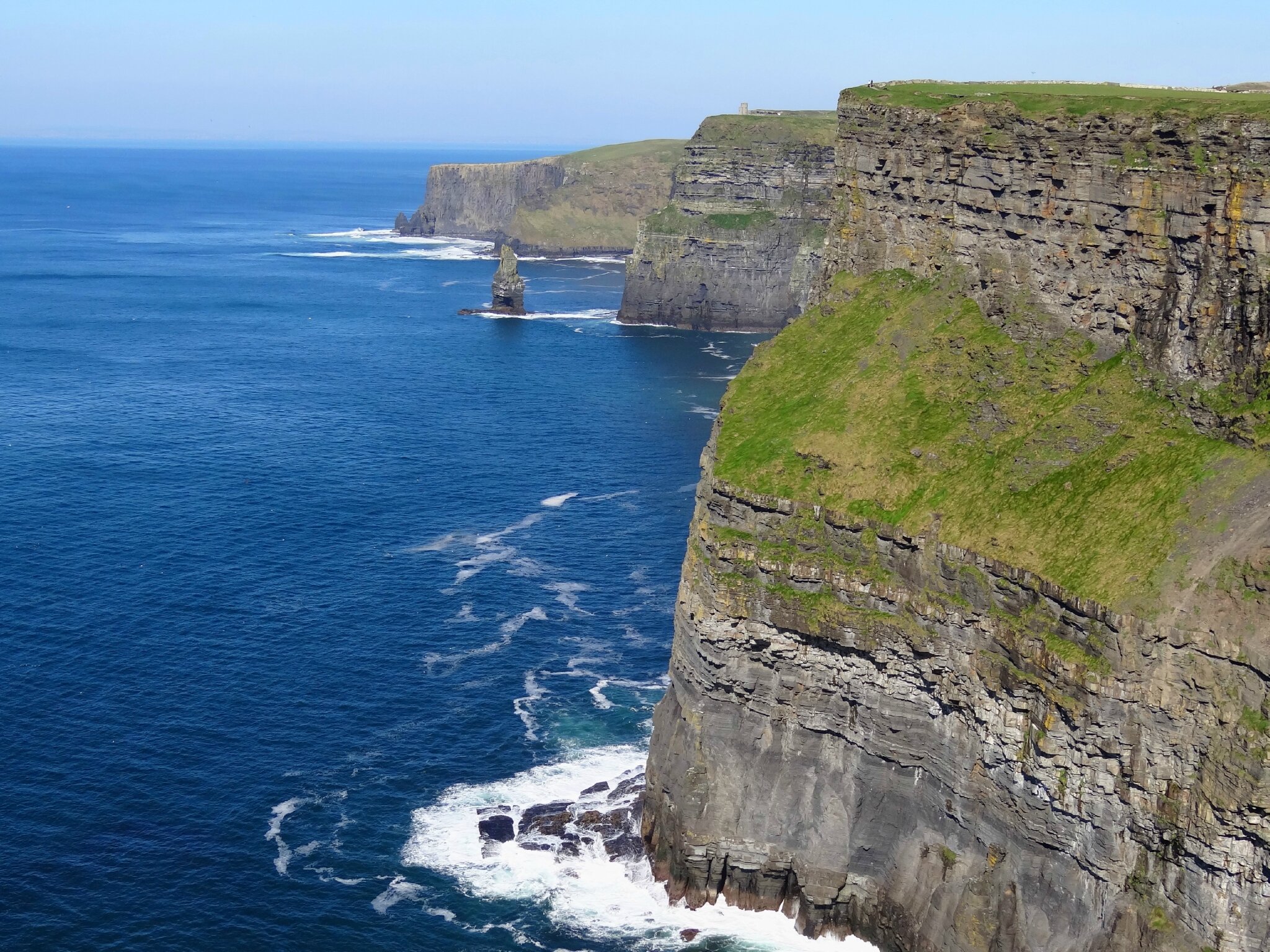 "Cliffs of Moher, O'Briens from South" by Bjørn Christian Tørrissen.
Tomorrow, Fred and I (and my numerous sketchbooks) will travel to Ireland. We will land in Dublin and we will visit the city for a few days. Then, we will drive to Galway, visit the Connemara and follow the western coast to reach the south of the country, the County Kerry, Killarney and Cork. Finally, we will reach Dublin through the County of Wicklow. During a few weeks, I will share with you some of the most inspirational places and landscapes. But for now, this is Ireland...
The state extends over an area of about five-sixths (70,273 km2 or 27,133 sq mi) of the island of Ireland (84,421 km2 or 32,595 sq mi), with Northern Ireland constituting the remainder. The island is bounded to the north and west by the Atlantic Ocean and to the northeast by the North Channel. To the east, the Irish Sea connects to the Atlantic Ocean via St George's Channel and the Celtic Sea to the southwest.
The western landscape mostly consists of rugged cliffs, hills and mountains. The central lowlands are extensively covered with glacial deposits of clay and sand, as well as significant areas of bogland and several lakes. The highest point is Carrauntoohill (1,038 m or 3,406 ft), located in the Macgillycuddy's Reeks mountain range in the southwest. The River Shannon, which traverses the central lowlands, is the longest river in Ireland at 386 kilometres or 240 miles in length. The west coast is more rugged than the east, with numerous islands, peninsulas, headlands and bays. (Source : Wikipedia)