Living for Art, l'exposition 2016 de la web-communauté Grand Masters of Fine Art, a été inaugurée le 23 avril dernier. Cet événement est né à l'initiative de mon amie britannique Beatrice Cloake, qui n'a négligé aucun effort pour le mener à bien. L'exposition en ligne réunit 40 artistes venus de Grande-Bretagne, Suède, Etats-Unis, Italie, Chine, Belgique, Colombie, Pays-Bas, France, Australie, Canada, Croatie et Nouvelle-Zélande.
Les participants possèdent un style qui leur est propre et ils travaillent avec différents médias (Huile - Acrylique - Aquarelle - Pastel) mais, selon Beatrice Cloake, tous ont un point commun : ces peintres produisent des travaux d'une qualité égale en termes d'exécution. Les oeuvres explorent une grande variété de sujets et elles sont répertoriées en 5 salles thématiques : eau, personnes, terre et ciel, nature morte et vie sauvage. Pour une visite virtuelle de Living for Art , cliquez ici : grandmastersfineart.com.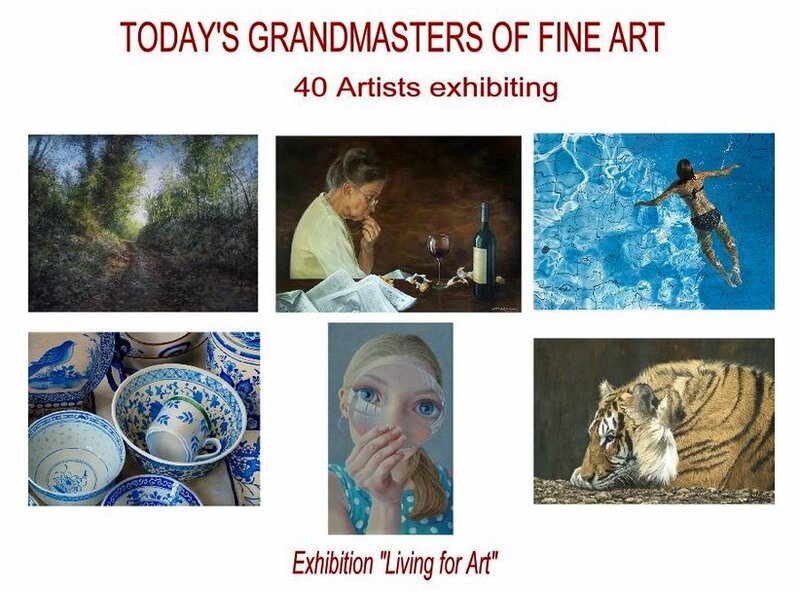 Living for Art, the 2016 exhibition of the Grand Masters of Fine Art web community, was lauched online on 23 April. This exhibition is curated by my friend, the British artist Beatrice Cloake, who worked very hard to make it happen. The online show gathers 40 artists coming from Great Britain, Sweden, USA, Italy, China, Belgium, Columbia, Netherlands, France, Australia, Canada, Croatia and New Zealand.
The participating artists are of different styles and they work with different media (Oil - Acrylic - Watercolour - Pastel) but, according to Beatrice Cloake, these painters have one thing in common: they produce the same quality of execution. The works explore a wide variety of subjects and they are categorized in 5 rooms: water, people, land & sky, still life and wildlife. To take a virtual tour of the Living for Art exhibition, please click here: grandmastersfineart.com.