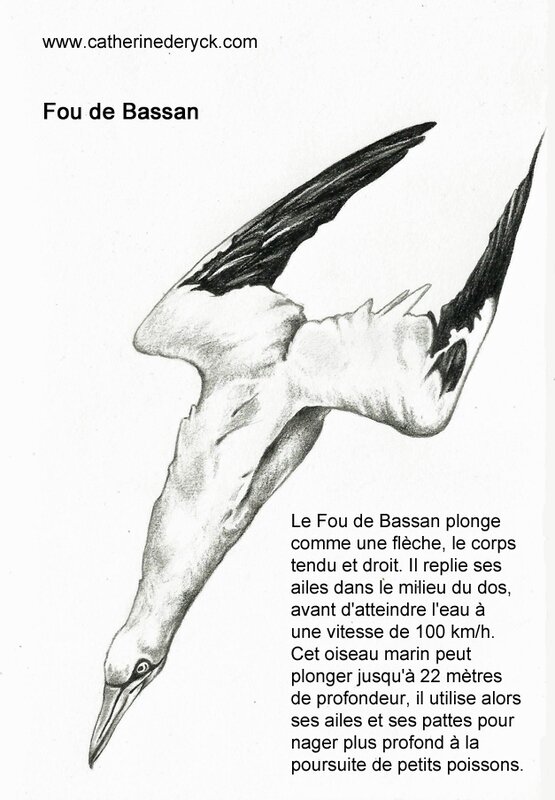 Voici quelques études consacrées aux Fous de Bassan. Lors de notre randonnée sur l'Ile Bonaventure, dans la Péninsule gaspésienne, nous avons emprunté le "Sentier des Colonies" pour rejoindre la plus importante colonie de Fous de Bassan présente en Amérique du Nord. La zone est balisée et interdite au public mais je me trouvais néanmoins à deux ou trois mètres de ces oiseaux et j'ai pu les observer de près. J'ai appris que les Fous de Bassan possèdent une espérance de vie allant de 20 à 40 ans et que chaque individu retrouve son propre nid à chaque saison, ceci durant toute son existence. Il en résulte que ces oiseaux se sont habitués à la présence de l'homme et qu'ils ne lui prêtent aucune attention. Des crevasses aux plus hauts sommets, les falaises accueillent plusieurs milliers de Fous de Bassan dont les chants et les cris offrent un concert à nul autre pareil.
Le Fou de Bassan, dont l'envergure peut atteindre plus de deux mètres, est le plus grand oiseau marin de l'Atlantique Nord. Il vole à une vitesse comprise entre 55 et 65 km/h. Son plongeon en mer est très impressionnant : lorsqu'il a repéré sa proie, le Fou de Bassan plonge d'une hauteur de 10 à 40 mètres. Il plonge comme une flèche, le corps tendu et droit, et il replie ses ailes dans le milieu du dos avant d'atteindre l'eau à une vitesse de 100 km/h. Le Fou de Bassan peut plonger jusqu'à 22 mètres de profondeur, il utilise alors ses ailes et ses pattes pour nager plus profond à la poursuite de petits poissons.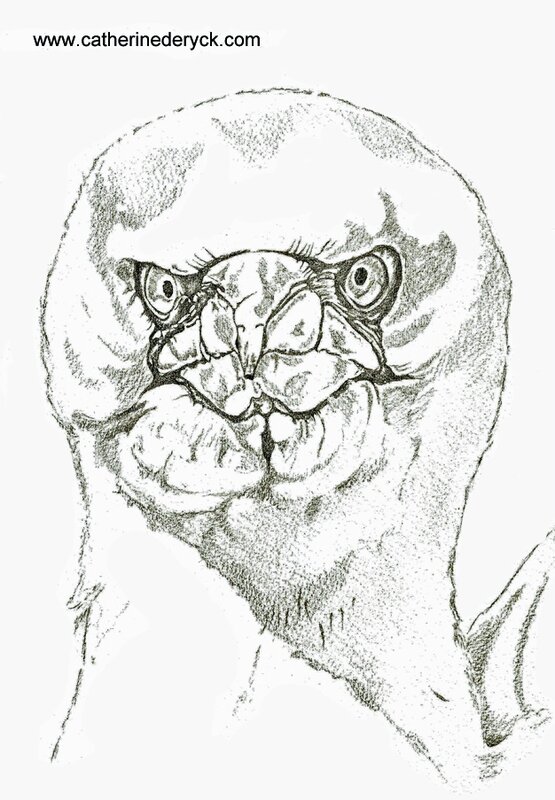 Here are a few more sketches of Northern Gannets. While hiking in Bonaventure Island, in the Gaspé Peninsula, we took the "Sentier des Colonies" to reach the largest gannet colony in North America. The gannets area is restricted to the public but that was no problem as I stood approximately 2 or 3 metres from the birds. I learned that gannets live from 20 to 40 years and that each bird returns to its own particular nest site for its entire life. These birds have become habituated to humans and pay no attention to them. The bare cliff tops of the island are the home of thousands upon thousands of birds whose calls and screams offer a unique concerto.
As you may know, the Northern Gannet is the largest seabird in the North Atlantic, with a wingspan of up to 2 metres (6.6 ft). It can attain velocities of between 55 and 65 km/h (34 and 40 mph). The way this seabird plunges is by far the most impressive that I have ever seen. Indeed, when it locates its prey in the water, the Northern Gannet can dive from various heights up to 10-40 meters (33-130 feet). The bird dives like an arrow, with its body straight and rigid, and it thrusts its wings straight out over back, touching in the middle, just before entering the water at a speed of up to 100 km/h (62 mph). The Northern Gannet can dive as deep as 22 meters (72 feet) and it uses its wings and feet to swim deeper in pursuit of small fishs.