Cet étalon étrange se dresse fièrement au croisement entre Stephen Avenue et Centre Street, dans Downtown Calgary. Outre sa qualité technique, tout l'attrait de cette sculpture réside dans les matériaux dont elle est constituée : équipements mécaniques et déchets métalliques qui proviennent de vieux véhicules agricoles pour la plupart. A y regarder de plus près, cette statue ressemble à un puzzle tridimensionnel complexe où chaque morceau de métal est venu trouver sa place à la perfection. Sa ligne fluide et son réalisme confèrent à l'étalon une vivacité et un dynamisme saisissants.
Souvent surnommée le Destrier Mécanique, cette statue de rouille et d'acier répond officiellement au nom de Powder the Plow Horse. Elle a été créée par la sculptrice américaine Dixie Jewett. En 2000, elle a rejoint Calgary par camion plateau en provenance de Sedona, dans l'Arizona.
Bring on the Empty Horse. Croquis, graphite sur papier / Sketch, graphite on paper. 2017.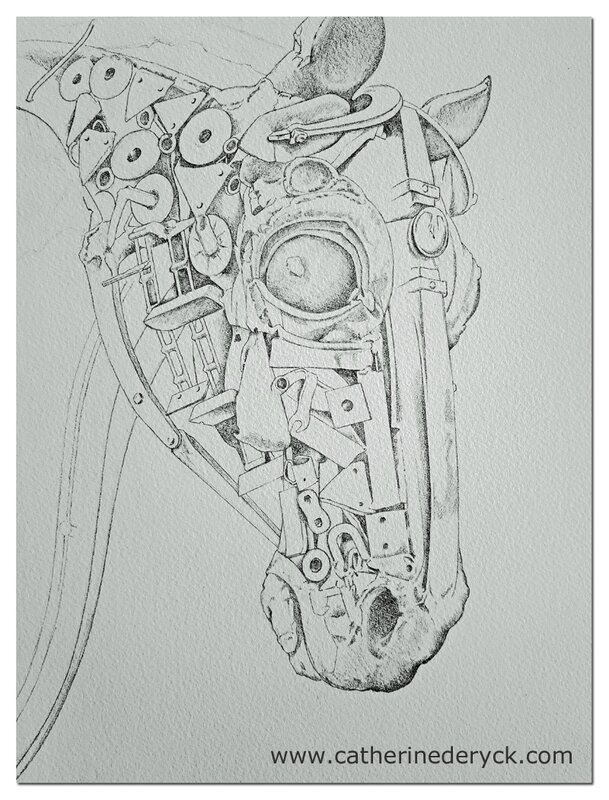 This quite unusual, more than life-size stallion proudly stands at the corner of Stephen Avenue and Centre Street in Downtown Calgary. The remarkable feature about the sculpture is the material it was made of: mechanical equipment and junk metal parts from old farm machinery, for the most part. On close inspection, it looks like an intricate three-dimensional puzzle where each piece of metal found its place to the perfection. The fluid line and realism of the sculpture makes the horse look amazingly lifelike and animated.
Often referred to as the Mechanical Horse, this rusty statue officially answers to Powder the Plow Horse. It was created by American sculptor Dixie Jewett. In the year 2000, it arrived in Calgary via ­flatbed truck from Sedona, Arizona.