Cette aquarelle est l'une des dernières-nées de la série Textures. Je n'ai pas débuté ce tableau par un arrière-plan texturé, contrairement à mon habitude. Dans l'humide, j'ai déposé un premier lavis de terre de sienne naturelle, d'or quinacridone et de bleus, permettant aux pigments de se mélanger et de créer des nuances intéressantes de turquoise et de verts. Cette base établit la structure de la composition et définit l'atmosphère / la gamme colorée de l'aquarelle.
Comme vous pouvez le voir ci-dessous, couleurs et valeurs naissent graduellement, lavis après lavis, en partant des nuances les plus claires vers les plus foncées. Le blanc du papier est préservé d'emblée alors que les détails et les effets de texture sont ajoutés tout au long du travail.
This watercolour painting is one of the latest from the Textures series. To start this work, I didn't use a textured background as usual. I layered down an initial wash of raw sienna, quinacridone gold and blues, allowing the pigments to mix together and to create some interesting shades of turquoise and greens. This underpainting establishes the structure of the composition and defines the atmosphere / colour scheme of the work.
As you can see on the three images above, colours and values are gradually built up, layer by layer, from light to dark. Blank areas are preserved while details and texture effects are added during the entire process.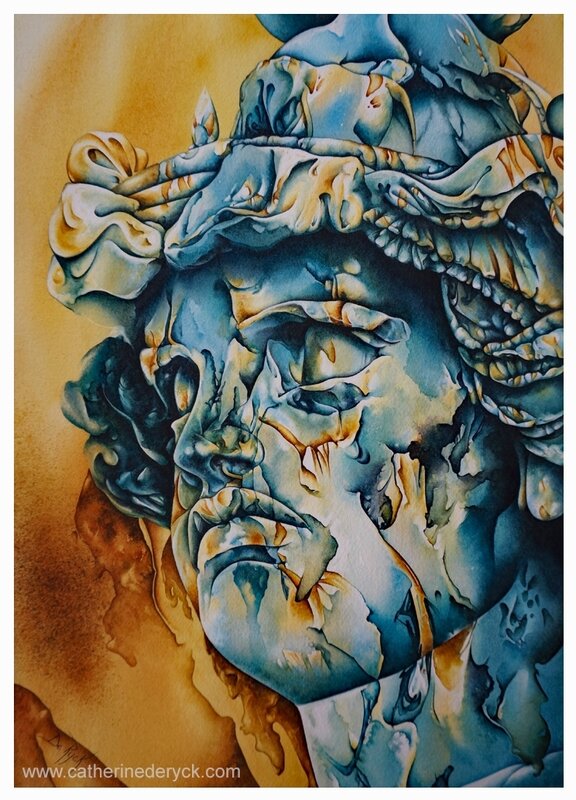 Hidden Treasures. Aquarelle / Watercolour, 38 x 28 cm. 2017.