Mallaig est un port situé à Lochaber, sur la côte ouest des Highlands. La ville se situe à l'extrémité de la bien-nommée "Route vers les Iles".
Mallaig est également le point d'arrivée de la West Highland Railway au départ de Fort William, reconnue comme la plus belle ligne ferroviaire traversant l'Ecosse, et un important terminal maritime qui propose des traversées régulières en ferry vers l'Ile de Skye. Pour le touriste, Mallaig est fascinante. Il s'agit d'un port de pêche et c'est d'ailleurs davantage de cette activité que du tourisme que provient l'essentiel des ressources de la ville : pêcheurs au travail, chantiels de réparation des bateaux, ... Dès lors, si vous savez apprécier la mer, les petits ports typiques et leurs bateaux, Mallaig est l'un des lieux les plus intéressants et captivants que vous découvrirez.
Cette aquarelle sera présentée en exclusivité lors de Twitter Art Exhibit 2019, du 11 au 13 mai à Edimbourg Les fonds récoltés permettront à Art in Healthcare de développer, voire d'étendre son programme d'ateliers à davantage de patients et de stimuler leur créativité.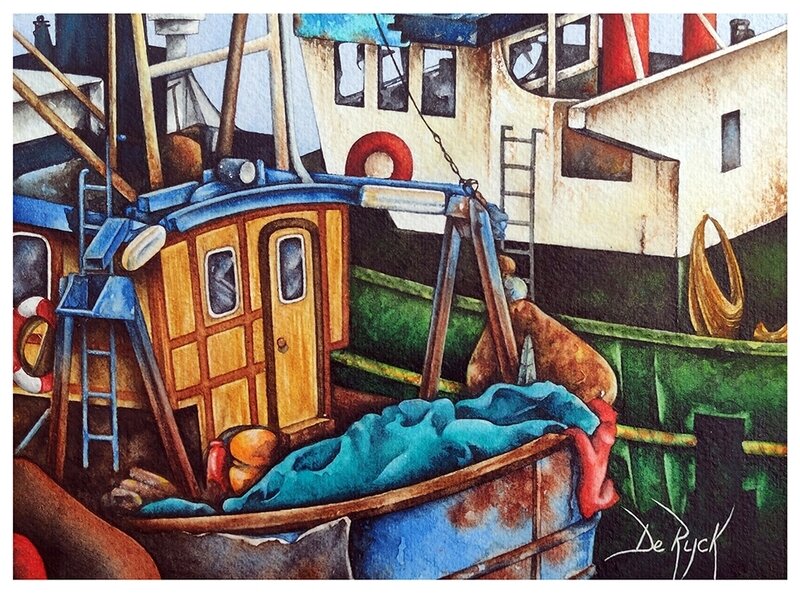 Scottish Boats. Aquarelle / Watercolour, 12 x 16 cm. 2019.
Mallaig is a port in Lochaber, on the west coast of the Highlands. The town lies at the end of the evocatively named "Road to the Isles".
It is also the terminus for the West Highland Railway from Fort William, which is said to be the most scenic train journey in Scotland, and an important ferry port with regular services to the Isle of Skye. For the visitor, Mallaig is a fascinating place. It is a working port, and it is the port rather than the tourist that forms the main focus of the activity of the town: fishermen at work, shipyards, ... So, if you have an eye for the sea, for small ports and for boats, then Mallaig is one of the most attractive and interesting places you'll see.
This watercolour painting will be exclusively presented at Twitter Art Exhibit 2019, from 11 until 13 May in Edinburgh.