Voilà une fin d'année 2019 bien remplie. Retour sur quelques moments forts...
Succès de foule le 15 novembre pour le vernissage de la 10è Biennale d'Aquarelle Art Bridge, à Saint-Petersbourg. L'exposition était répartie sur deux sites : à l'Exhibition Space du Palais Youssoupov et au Musée central de la Marine de guerre. Des artistes venus de Russie mais également des quatre coins du monde se partageaient les cimaises des lieux. Un superbe catalogue reprenant les oeuvres de chaque artiste a été réalisé par la Société d'Aquarelle de Saint-Pétersbourg.
The last months of 2019 were very busy. Here are some of the best moments...
A lot of people attended to the opening ceremony of the 10th Art Bridge Watercolour Biennial on November, 15 in Saint-Petersburg. There were two exhibition places: in the Exhibition Space of The Yusupov Palace and in the Central Naval Museum. Artists coming from Russia but also from all over the world shared the walls together. A beautiful catalog gathering the works of each artist has been edited by the Saint-Petersburg Watercolour Society.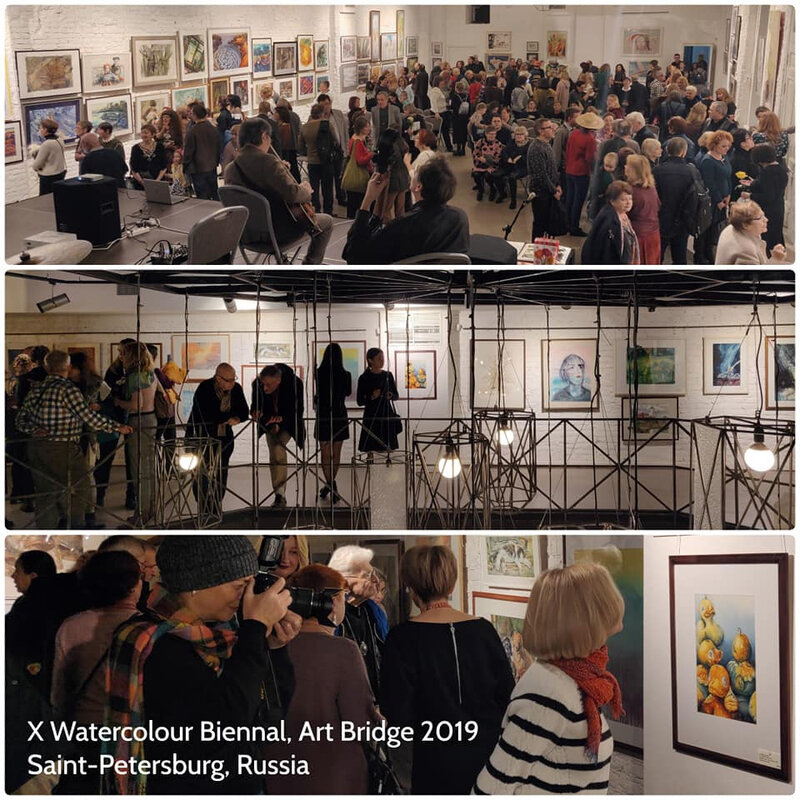 J'ai également participé au concours " 2019 Malaysia International Online Juried All Medium Competition " - catégorie PAYSAGE et me voilà reprise dans le Top 70 des oeuvres proposées. De nombreux artistes issus de 54 pays différents ont pris part aux deux étapes de sélection.
I also took part in the 2019 Malaysia International Online Juried All Medium Competition - LANDSCAPE category. I received the Top 70 Paintings Award. Artists from 54 countries participated in the selections.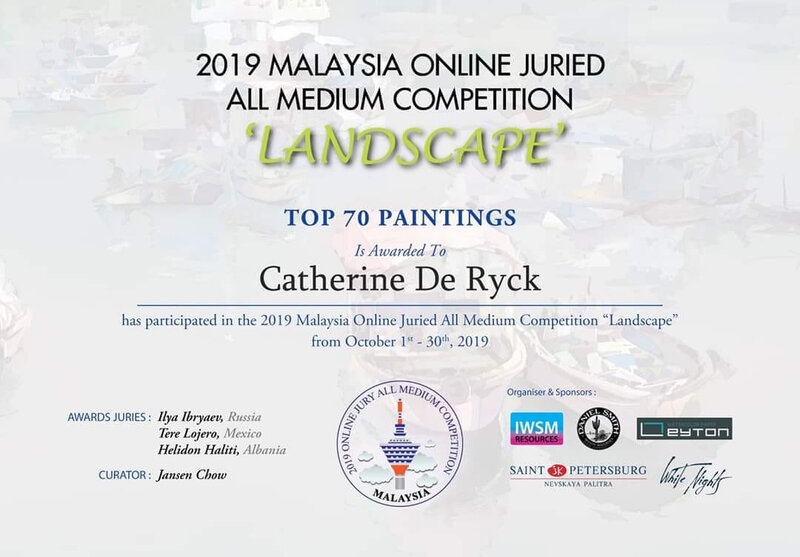 Enfin, l'une de mes aquarelles, intitulée Balade d'Automne, est sélectionnée pour figurer dans le catalogue de Fabriano in Acquarello 2020.
Finally, one of my works, untitled Autumn Walk, is selected to be published in the art catalogue of Fabriano in Acquarello 2020.