Hello le monde ! Si vous vous demandez encore ce que je faisais et où j'étais au cours des derniers mois, voici la réponse en images et commentaires. Je souhaite d'abord remercier tous mes lecteurs pour leur soutien constant et leurs messages d'encouragement. Merci à tous ceux qui ont participé et/ou se sont rendus à la première International Watercolour Biennial qui s'est déroulée en août dernier, à Estaimpuis (BEL). Cette exposition, organisée avec tous les membres d'Eau en Couleurs ASBL en collaboration avec la Commune d'Estaimpuis, était un rêve. Un rêve devenu réalité grâce au soutien et à la participation active des artistes, des partenaires, de nos 5.000 visiteurs et paticipants aux stages, démonstrations, visites guidées, nocturnes.
Hi folks! If you are still wondering what I've done and where I've been during the past months, here is the answer in pictures and comments. I wish to thank you, my readers, for your lovely support and kind messages. Thanks to all of you who took part in and/or attended to the first International Watercolour Biennial that took place last August, in Estaimpuis (BEL). This exhibition, organized by all members of Eau en couleurs ASBL in collaboration with the town of Estaimpuis, was a dream. A dream that came true thanks to the support and participation of all artists, partners and of the 5.000 visitors that attended to the show, workshops, guided tours and evening talks.

Après la clôture de l'International Watercolour Biennial, je me suis envolée pour la Toscane à la découverte de ses paysages, ses traditions, son histoire, son héritage artistique et son influence permanente sur la culture. Ces derniers s'expriment à travers les églises, palaces, galeries d'art, musées, villages et places que l'on retrouve dans la région. Ci-dessous, une libre interprétation colorée du David de Michel-Ange, ou plutôt de sa réplique croquée en démonstration sur la Place de la Seigneurie, à Florence.
Once the International Watercolour Biennial closed, I flew to Tuscany to discover its landscapes, traditions, history, artistic legacy and its permanent influence on culture. Those are expressed in the region's churches, palaces, art galleries, museums, villages and piazzas. Below is a free and coloured interpretation of Michelangelo's David, more precisely of its replica located in the Piazza della Signoria in Florence and sketched for a demonstration.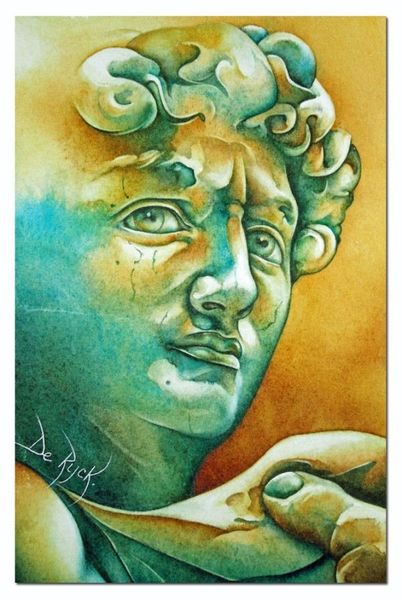 Durant mon séjour en Toscane, la Muestra Internacional de Acuarela - Dos Hermanas a ouvert ses portes le 20 septembre à Séville, en Espagne. Quelque part sous l'Océan y a été présentée jusqu'au 28 octobre. Après un bref retour en Belgique, j´ai pris le départ pour le Sud-Est de la France afin d'assister au vernissage de la première Biennale de l'Aquarelle de Narbonne. Trois de mes œuvres y étaient exposées : Rouge Baiser, M'as-tu vu ? et Attrape-moi si tu peux !
While I was in Tuscany, the Muestra Internacional de Acuarela - Dos Hermanas opened on 20th September in Sevilla, Spain. My painting Somewhere beyond the Sea was shown on exhibit there until 28th October. After a brief return at home, I travelled to Narbonne, in the South-East of France, for the opening of the first watercolour exhibition ever held there. There of my works were presented during this show : Red Kiss, Did you see me? and Catch me if you can!
C'est ensuite en Charente, et plus particulièrement dans la petite ville de Brie, que je me suis rendue et où j'ai eu la chance de rencontrer des personnes adorables devenues de véritables ami(e)s. J'étais l'artiste invitée des 9èmes Rencontres Artistiques Internationales de Brie, une manifestation dédiée une année sur deux à l'aquarelle, l'autre étant consacrée au pastel sec. Je tiens à vous en parler plus longuement dans un prochain billet, tant la qualité de l'exposition, les animations et le professionnalisme des organisateurs méritent que l'on s'y attarde.
Then, I visited Charente, and especially the little town of Brie, were I met many lovely people that I am proud and honoured to call friends. I was the invited artist of the 9th International Artistic Meeting of Brie, an exhibition that is dedicated to watercolour every two years (in alternation with soft pastel). I will write a separate post about this one, as the quality of the works shown on exhibit, the animations and the professionalism of the organizing committee truly deserve it.