Depuis plusieurs années, je participe à Twitter Art Exhibit. Le concept est très simple : l'exposition présente des oeuvres d'art originales réalisées au format carte postale et offertes par des artistes partout dans le monde. 100% des bénéfices des ventes sont directement reversés à une association caritative. Ci-dessous, l'aquarelle qui sera présentée en 2020, "En attendant le Printemps / Waiting for Spring".
Cette dixième édition de Twitter Art Exhibit aura lieu aux William H. Miller Studios & Fine Art de Myrtle Beach, en Caroline du Sud (USA). Les oeuvres seront exposées et vendues au prix de $35 chacune ou de $120 pour 4 cartes, du 3 au 15 avril 2020. L'événement est ouvert au public et l'exposition est accessible gratuitement.
En 2020, Twitter Art Exhibit a choisi de soutenir Horry County Disabilities and Special Needs (HCDSN). HCDSN fournit assistance et services aux personnes atteintes d'un handicap mental, d'autisme et de maladies cérébrales et neurologiques. L'approche est centrée sur la personne et vise à soutenir les patients et à leur permettre de se dépasser et de développer le meilleur d'eux-mêmes. Ceci, entre autres activités et initiatives, est accompli en les amenant à libérer leur esprit créatif et leur passion à travers l'art. Les bénéfices de TAE20 permettront à Horry County Disabilities and Special Needs de développer et d'étendre son programme artistique.
Tous les artistes, amateurs ou professionnels, de tous niveaux confondus, sont invités à participer. Si vous désirez rejoindre l'aventure, lisez les conditions de participation ici.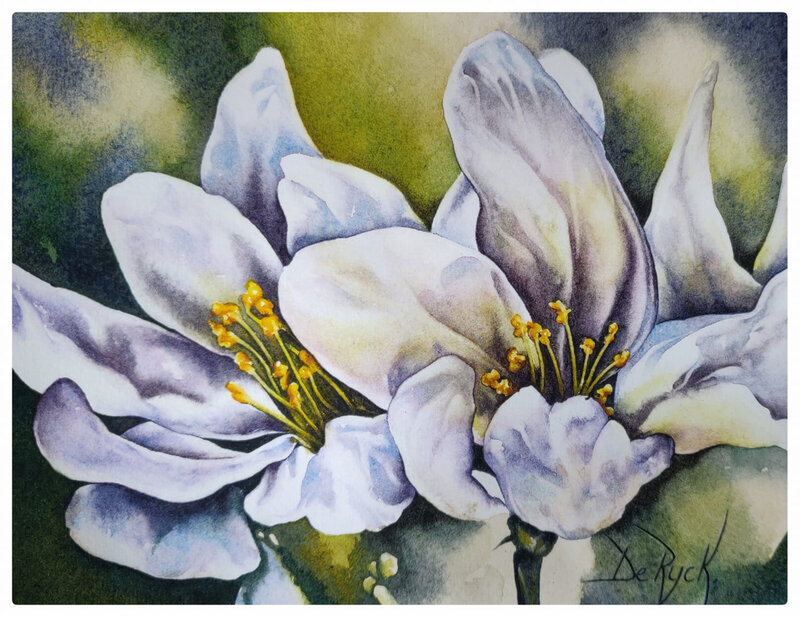 En attendant le Printemps / Waiting for Spring. Aquarelle / Watercolour. Arches (CP). 12 x 16 cm.
Since a few years, I take part in Twitter Art Exhibit. The idea is pretty simple: the exhibition features original postcard-sized art created and donated by artists from all around the world. 100% of proceeds from art sales will be directly donated to a charity organization. Above, you can see the watercolour painting that I will exhibit in 2020, "En attendant le Printemps / Waiting for Spring".
This 10th edition of Twitter Art Exhibit will take place at the William H. Miller Studios & Fine Art, in Myrtle Beach, South Carolina (USA). Postcard-sized artworks will be displayed and sold at a price of $35 each or 4 cards for $120, from April 3rd until April 15st, 2020. This event is free to attend and open to the public.
In 2020, the chosen charity is Horry County Disabilities and Special Needs (HCDSN). HCDSN is dedicated to providing services and supports, to individuals with Intellectual Disabilities, Autism and Head and Spinal Cord Injuries. Their philosophy of person centeredness is aimed at helping individuals with disabilities to become the very best version of themselves. This is, among other activities and initiatives, accomplished through unleashing their creative spirit and passion through art. Proceeds from TAE20 will enable Horry County Disabilities and Special Needs to develop and extend the art program.
Artists of all career levels are encouraged to participate. If you wish to join the adventure, please read and follow the submission guidelines here.